Introduction of Conformity of Production for the GB / UK(NI) Schemes
This page was last updated on 26th May 2022
Phase One – The Declaration Letter
This phase began during the first quarter of 2022 for the categories M, N, L, and T.
For Non-Road Mobile Machinery (NRMM), O and components, these will be introduced during the first three months of 2023.
So, what will be required?
A declaration letter signed by a duly appointed representative of the manufacturer will be required, and we have produced a template to help you. The letter is your declaration that vehicles covered by your provisional GB approval are covered under your existing EU CoP, or other arrangements.  This template can be sent by email to an address that has been supplied to us at the time of your provisional Great Britain (GB) approval application ("p" number). Please note, the declaration will need to cover all "p" approvals held.
THIS PHASE DOES NOT APPLY TO EXISTING VCA COP HOLDERS
The new "p" approvals are adoptions of "e" approvals that have been by approved by an EU member state. So, CoP held with the EU member state only needs to consider if the product is being placed on the market in mainland Europe. But there could be occasions when the GB specification is not fully covered, and the approving member state has not considered additional activity, such as recalls.
In that case, we will need assurance that the manufacturer can be contacted in the event of a recall being required in GB (the Vehicle Safety Branch is part of a separate agency – DVSA). Additionally, we need confirmation that any CoP action required on a product placed on the market in GB will be covered in the "e" member state CoP or by other means, and this also includes any periodic tests on GB specification vehicles if these differ from the EU specification.
Next Steps
As we mentioned previously, you will need to sign a declaration letter like the one shown here.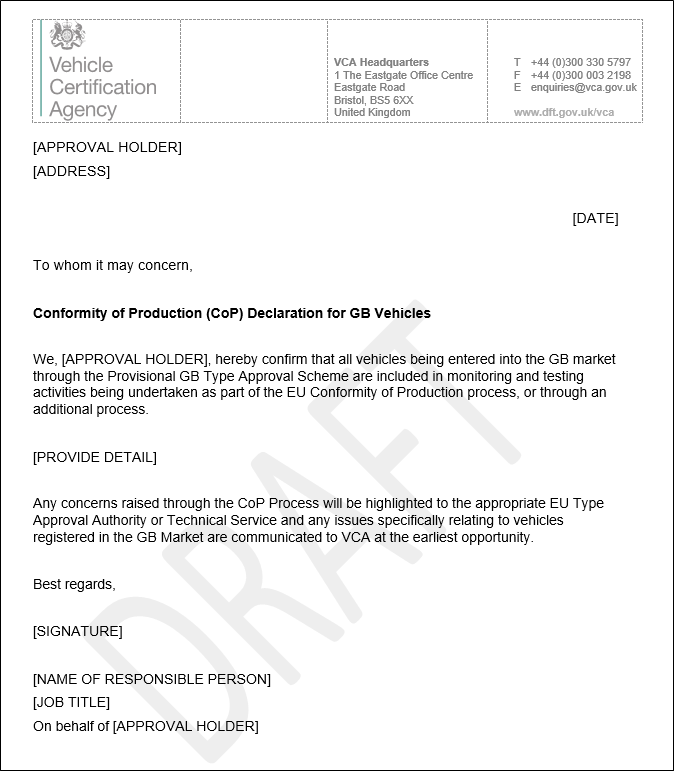 Please note, the approval holder will be the organisation named on the "p" approval, not local sales. You will need to clarify in the "Provide Details" section of the template whether GB CoP is covered by the EU work or separately. Once completed, please email the form to copmailbox@vca.gov.uk.
If you encounter any issues, or have a question, please contact us at copmailbox@vca.gov.uk. Similarly, we may need to reach out to you for additional information over and above what has been undertaken with the EU member state.
Once we have received your declaration, we will send an acknowledgement by email to the responsible person who signed the document.
IMPORTANT: This will act as "provisional" CoP which will remain sufficient until full GB approvals are required.
Full GB CoP will need to be in place before approvals will be issued to the full scheme regardless of whether the compulsory date has been reached.