GB Type Approval Scheme
This page was last updated on 2nd June 2023
Guide to Applicants
Introduction
This guide details the application process for the GB Type Approval Scheme and provides important information for applicants to read before they apply.
What is the GB Type Approval Scheme?
The GB Type Approval Scheme is the new automotive regulatory scheme for the Great Britain.  All vehicles to be sold in Great Britain will be required to hold GB Type Approval from VCA, however the introduction is being phased in.
When do I need to obtain GB Type Approval?
The GB Type Approval Scheme was established through Statutory Instrument 2022 No. 1273, which was published in December 2022 and comes into force on the 31st December 2022.  However, the legislation only applies to new types from 1st February 2024.  When you need to apply will depend on your provisional approval status and when changes are made to the vehicle which would require you to obtain full approval.
Further reading: Transition to full GB type approval
How do I Demonstrate Compliance?
We require manufacturers to send us an application for a GB Type Approval system, component, vehicle, or trailer.  This application should consist of an information document and suitable evidence demonstrating compliance.  At this time, we are not requiring any in-person inspections where suitable evidence has been supplied.
Alongside this application, you are required to hold appropriate Conformity of Production (CoP) clearance for the scope applied for.  Please note that CoP clearance must be obtained from VCA directly and we cannot accept any CoP Compliance Statements from EU Member States.  If you currently hold CoP clearance from VCA for a GB approval issued prior to the new legislation being published, then you do not have the scope for the full GB Scheme in your compliance statement.  You are required to have an initial assessment completed before your next extension otherwise we will not be able to process it.
Further reading: Introduction of GB CoP
Language
The application must be written in English to allow us to read and understand the content.  This applies for the information document, example CoCs, evidence, supporting documents and CoP elements such as control plans.  Where the local language is needed to ensure clear internal communication, such as with control plans, a translated version for the purposes of the GB application is acceptable.
Technical Services
To apply for a GB Type Approval, you are required to provide suitable evidence from a suitably appointed Technical Service.  At the time of full implementation of the GB Scheme this Technical Service must be appointed by VCA for the relevant subject you have applied for.
From the initial launch of the GB Type Approval Scheme there is a derogation period where VCA will accept technical evidence from any Technical Service appointed by any EU Member State.  This derogation period will be in place until 31 December 2026 for M or N applications and 31 December 2027 for Category O, Component, or Separate Technical Unit applications.  Any applications received after this date must be using VCA appointed Technical Services.  Evidence of accreditation will be checked from the European Commission website of designated Technical Services.
Worst Casing
Worst casing of the testing to demonstrate compliance with GB legislation is the responsibility of the Technical Service.  Where worst casing has been used in the testing of your vehicle or product, a copy of this agreement should be provided as part of the evidence pack submitted to VCA.  Worst casing should comply with VCA technical interpretations, these are available through our Vista legislation management system.
Types of Evidence
Evidence is most likely provided in the form of a test report from the Technical Service; however, it may be necessary to supplement this with drawings or laboratory reports to provide the detail needed for VCA to review the application.
All test reports provided as evidence need to demonstrate compliance to the test procedure and any results must be reported in full, with any objective evidence documented.  In cases where the test report from the technical service only states compliance, then the accompanying laboratory report should be supplied.  An example of this could be Windscreen Defrosting and Demisting Systems as the photos demonstrating the compliance may be in the laboratory report rather than the Technical Service report.
Evidence provided from an EU vehicle test must apply to vehicles designed for and intended to be sold in the GB market.
Drawings may be used to supplement the EU test report where there is a difference with the GB specification.  An example of this may be the statutory plate as the EU test report may demonstrate letter heights but an additional drawing may be needed to show the GB version.
Emissions
For applications relating to emissions, VCA will require all applicable test reports to be provided, for example road load, Type 1 to 6 and OBD all need to be provided.
To assess your application for emissions, VCA will require the minimum information contained within Appendix 8a of Annex I to the retained version of 2017/1151 within the test reports.  Lab test sheets can be provided to supplement Technical Service test reports where this information is not provided.
VCA will require your extended AES BES documentation package to review as well as a signed Preliminary Information Report.
GB legislation for light duty emissions requires compliance to Euro 6d procedures and limits.  VCA are not able to accept Euro 6e test reports as evidence towards a GB Type Approval application.  Where a test report has been provided stating compliance to Euro 6d, it is taken to mean all test procedures and legal requirements are in compliance with the Euro 6d legislation as retained in UK law.
Eco-Innovations
Where you are listing an eco-innovation as part of your emissions application, you should include the test report from the technical service to demonstrate the certification of savings from any eco-innovation(s) the vehicle type may have.
RRR (Recyclability, Recoverability and Reusability)
An approval to RRR is required according to the requirements of Schedule A1 of the Statutory Instrument 2022 No. 1273.  Whilst this requires that the technical requirements of UN Regulation 133 are used, the legislation does not allow direct acceptance of this regulation but a R133 test report can be provided as evidence.  Equally a test report to EU Direction 2005/64 can be used although additional information will be required demonstrating the heavy metal content (lead, mercury, cadmium, and hexavalent chromium) meets the requirements of the GB standard.
To assess your RRR application, VCA will require the details of the calculation method (ISO 22628:2002) and the strategy employed.  If the strategy is contained in a separate document, this should be supplied in addition to the test report.  The strategy should detail how you intend to manage the end-of-life of GB vehicles and the processes you intend to use.
Rear Registration Plate Space
There is a technical difference in requirements between the retained GB Regulation 1003/2010 and the latest EU Regulation 2021/535 Annex III.  Therefore, it is possible a vehicle designed to meet EU requirements will not comply with GB requirements.
When supplying test report evidence based on EU Regulation 2021/535 as part of a GB application, please ensure that drawings demonstrate the radius of curvature of the flat surface for mounting the registration plate at the rear of the vehicle, and the dimensions of any holes.  This allows us to quickly ensure compliance without the need for follow-up questions.
Air Conditioning Systems
An approval is no longer possible to the requirements of air conditioning systems as the EU Directive was not retained in UK law.  Instead, a declaration is required as part of your Whole Vehicle application which states that the Type does not use a gas with a global warming potential of more than 150.  There is no defined template for this declaration, but we would expect you to state the gas being used and the declared GWP as evidence is it below 150.
Information Document
When applying for a GB Type Approval you must supply an information document which is written for the GB vehicles contained within the scope of your approval.  This can be achieved in two ways:
Standalone GB Information Document
EU Information Document with a GB Cover Page
The standalone GB information document should follow the format in 2018/858 and 2020/683 as amended by Statutory Instrument 2022 No. 1273.
The EU information document may be the version currently in force with the EU Type Approval requirements and the cover page should highlight all the differences between the EU content and the GB vehicles.  Examples of this would be the manufacturer's representative, which may be different between the EU and GB approvals, and the approval number where this is referenced.
The cover letter should be on company letterheaded paper or clearly identified as belonging to the approval holder.  The content of the cover letter is not prescribed by VCA or legislation, but it should contain as a minimum:
GB legislation being applied for
Key information to identify it as related to the EU information document, such as the Type code or a document reference
Document control, including a date and version or revision number
Highlight fields within the EU information document which is only applicable to EU vehicles and state how the document should be read for GB vehicles
The supplied EU information document must be supplied in an unprotected format, i.e. we are unable to accept EU information documents which have been digital protected by the issuing Type Approval Authority.
The end date for the allowance to use the EU information document route has not yet been determined and so this approach could be subject to change in the future.
Certificate of Conformity (CoC)
An example CoC must be included in the information document package.  This CoC should comply with the requirements in the Statutory Instrument.  Until 6 July 2026, an EU CoC will be accepted in the UK as long as the vehicle holds an EU WVTA in addition to their GB WVTA, in line with Article 36, paragraph 1A. Where a different build specification is used in GB relative to the EU, it will not be possible to generate a valid EU CoC, and so a GB CoC must be used.
How do I apply?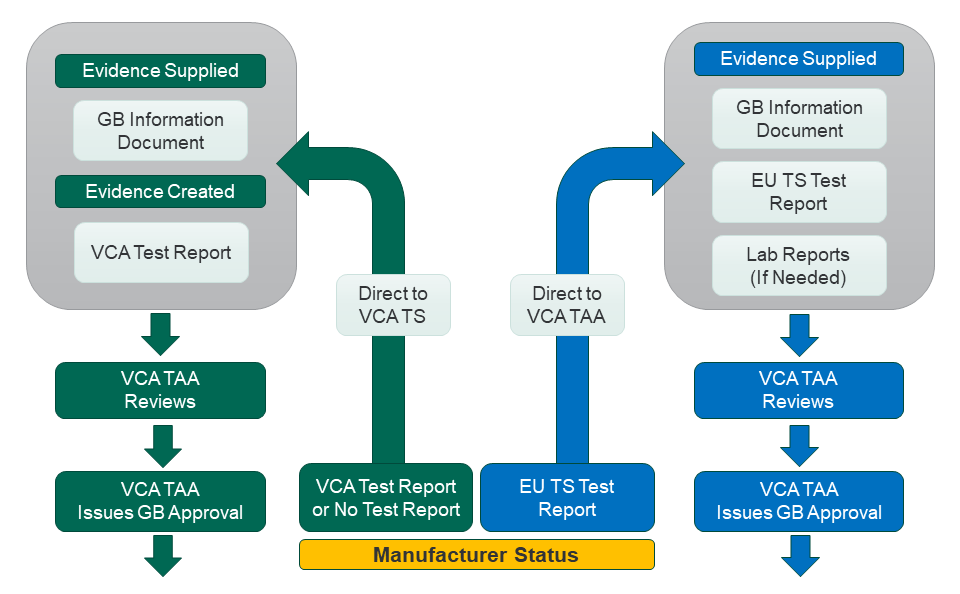 You can apply for a GB Type Approval in two ways:
Direct to the VCA Type Approval Authority
Through VCA Technical Service
If you hold suitable evidence already for your vehicles to meet GB regulations, then you should apply direct to the VCA Type Approval Authority using our online portal application system on our website.  You may then provide the required evidence and we will then issue the approval after it has been successfully reviewed.
If you require testing to take place to demonstrate compliance, or you work with VCA Europe as a Technical Service for EU Type Approval, then you should continue to apply through the VCA Technical Service, and this will automatically result in an approval once all tests are completed.  This functionality is not yet available through our portal and so please continue applying using the pdf application form.
---
Ref: TAC-E-WE-1 | Rev 2