Provisional GB Type Approval Scheme
This page was last updated on 3rd November 2022
Transition to full GB type approval
NOTE: This guidance only applies from the point at which the full GB type approval scheme becomes mandatory for the vehicle category concerned. Refer to the timeline here for more information on compulsory application dates.
At the point of mandatory application of the Full GB type approval scheme, VCA will no longer be able to issue new Provisional type approvals for the vehicle categories concerned, meaning a different process must be followed in the handling of changes to underlying EU type approvals in relation to existing Provisional type approvals.
Process Description
The full detail is set out in the flow diagram and further conditions below, but there are three main criteria for determining whether a Provisional approval remains valid in the event of changes to underlying EU type approval:
Is the Provisional approval less than two years old?

Provisional approvals have a maximum lifetime of two years, any Provisional approval over two years old has expired.

Has the vehicle production specification for GB been frozen in line with the current issue of the Provisional approval?

Manufacturers may choose not to reflect EU vehicle specification changes in GB production in order to maintain the validity of their current Provisional approval.

Do the changes to the underlying EU type approval impact the restricted parameters on the vehicle Certificate of Conformity (CoC)?

If the changes in vehicle specification are such that the restricted CoC parameters are not impacted, then the Provisional approval remains valid against the new specification.
In the event that a Provisional approval is no longer valid, the manufacturer must transition to full GB type approval. In the event that the Provisional approval remains valid, VCA will issue a confirmation letter recognising the changes and confirming ongoing validity of the Provisional approval up to its previous expiry date.
Process Flow Diagram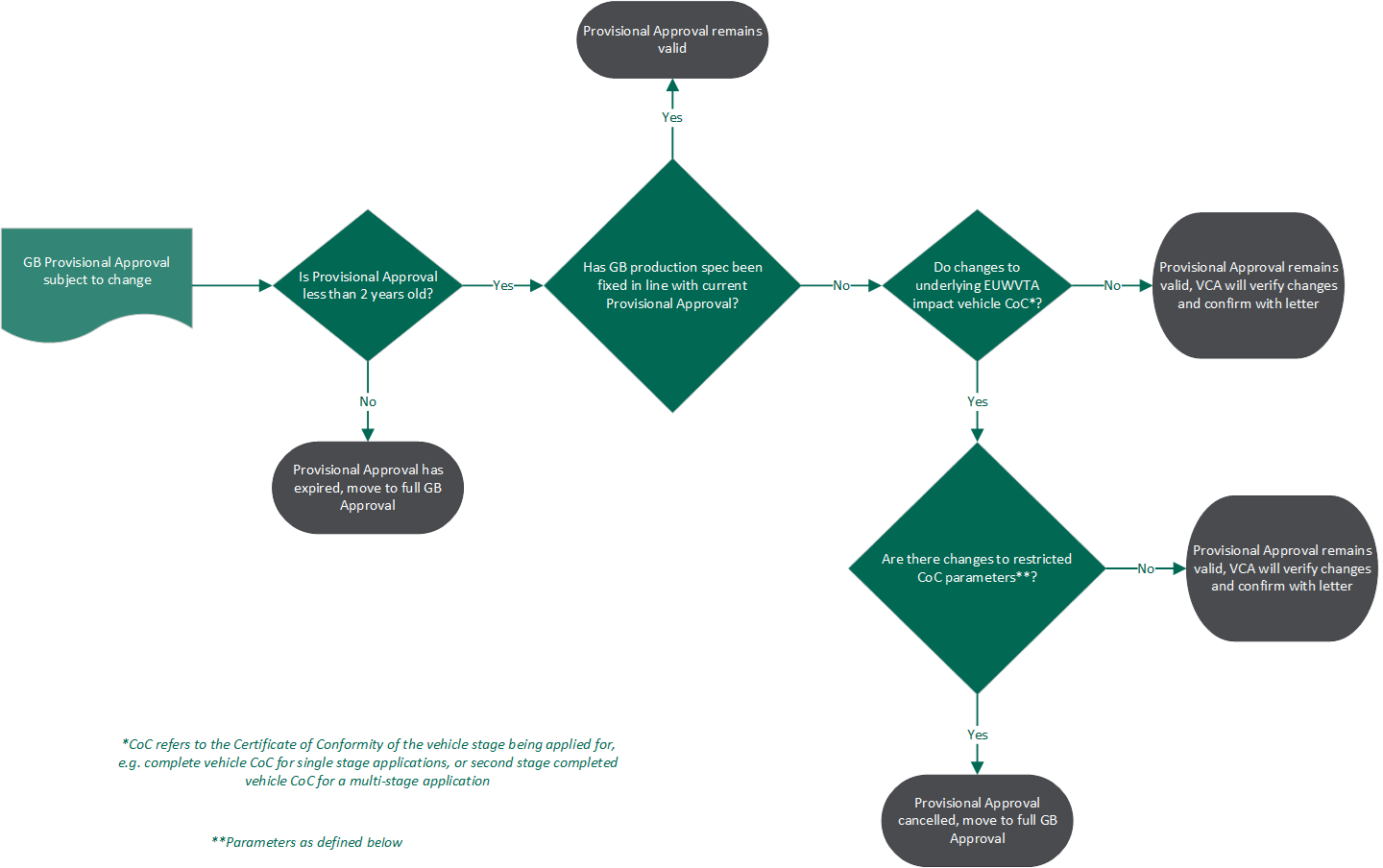 Restricted CoC Parameters
As many of the parameters on a vehicle CoC are individual vehicle specific, or likely to be impacted by minor changes in vehicle specification, it is not proportional to link the ongoing validity of Provisional approvals to these items. However, there are certain parameters on the vehicle CoC that if changed, would reflect a significant change to vehicle specification that warrants transition to the Full GB type approval scheme.
These "restricted parameters" are set out below, and any change in these parameters outside of the permitted conditions will result in the cancellation of the current Provisional approval, requiring manufacturers to move to Full GB type approval.
Number
Subject
Conditions
0.2.
Type / Variant / Version

No changes to vehicle type or variants permitted
Any change to vehicle versions permitted

3.1.
Specify if the vehicle is non-automated/automated/fully automated