New Car Fuel Consumption & Emission Figures
This page was last updated on 31st March 2023
Responsibilities of vehicle manufacturers, importers and dealers
EU Directive 1999/94/EC requires new car fuel consumption and CO2 emissions data to be made freely available to consumers. Car dealers are required to display a label on (or near to) every new car displayed for sale. The label shows the fuel consumption and CO2 emissions. Fuel consumption figures are expressed both in litres per 100 kilometres (l/100 km) and in miles per gallon (mpg).  The label changed in January 2019 to show the WLTP test cycles: Low, Medium, High, Extra-high, Combined and for hybrid-electric cars Weighted combined. See the section headed 'Fuel Consumption Test' for more details on test conditions.
Car dealers often voluntarily display a colour coded 'comparative' label.  That is, a label that shows both the mandatory fuel consumption and CO2 figures mentioned previously, as well as information about the appropriate tax band for the vehicle.  The label is similar in design to the energy efficiency labels that appear on many 'white goods', such as fridge freezers.  An example of this label can be seen here.  Although this label format (with the colour-coded banding) is not currently mandatory, the DfT, VCA, vehicle manufacturers and other stakeholders have worked hard to ensure that the label is harmonised throughout the market sector in order to support, simplify and inform consumer choice.
Current labels from April 2023
Label used for cars that run on Petrol, Diesel, LPG or Hybrid electric vehicles (not Plug-in Hybrids)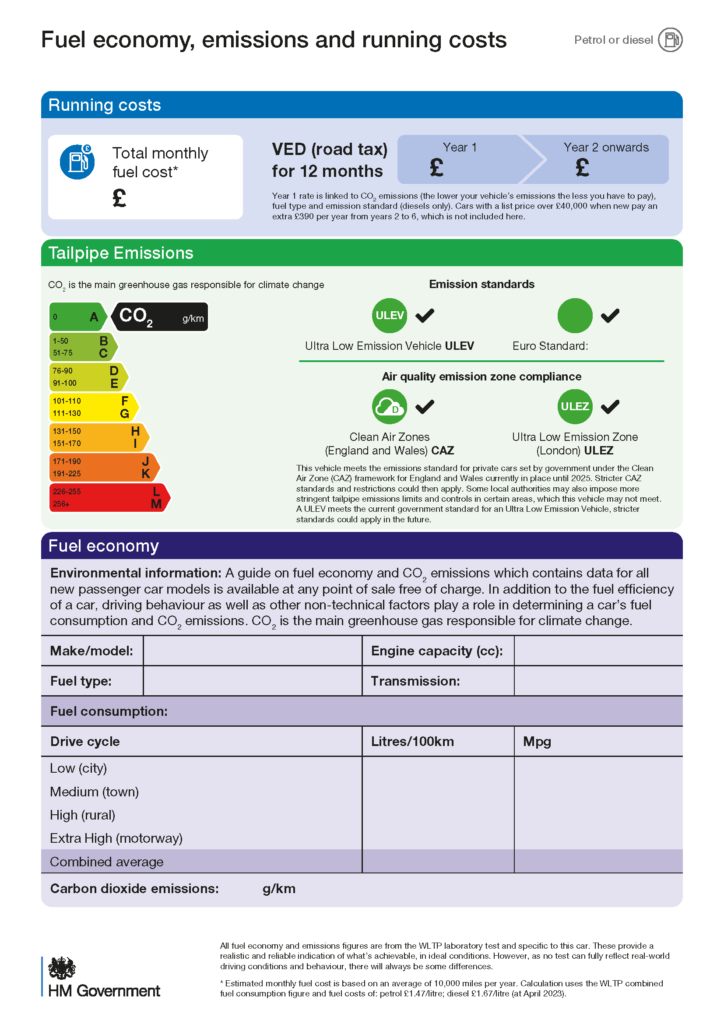 Label used for cars that run on Petrol or Diesel as well as mains electricity (Plug-in Hybrid Electric Vehicles – PHEVs)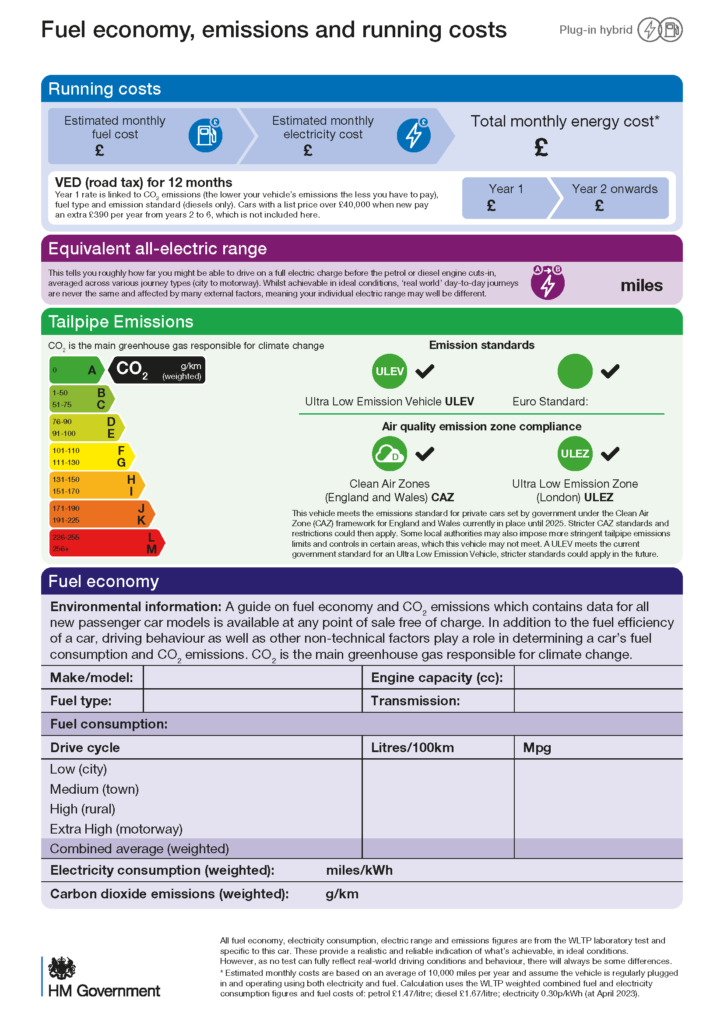 Label used for cars that run solely on electricity (Battery Electric Vehicles – BEVs)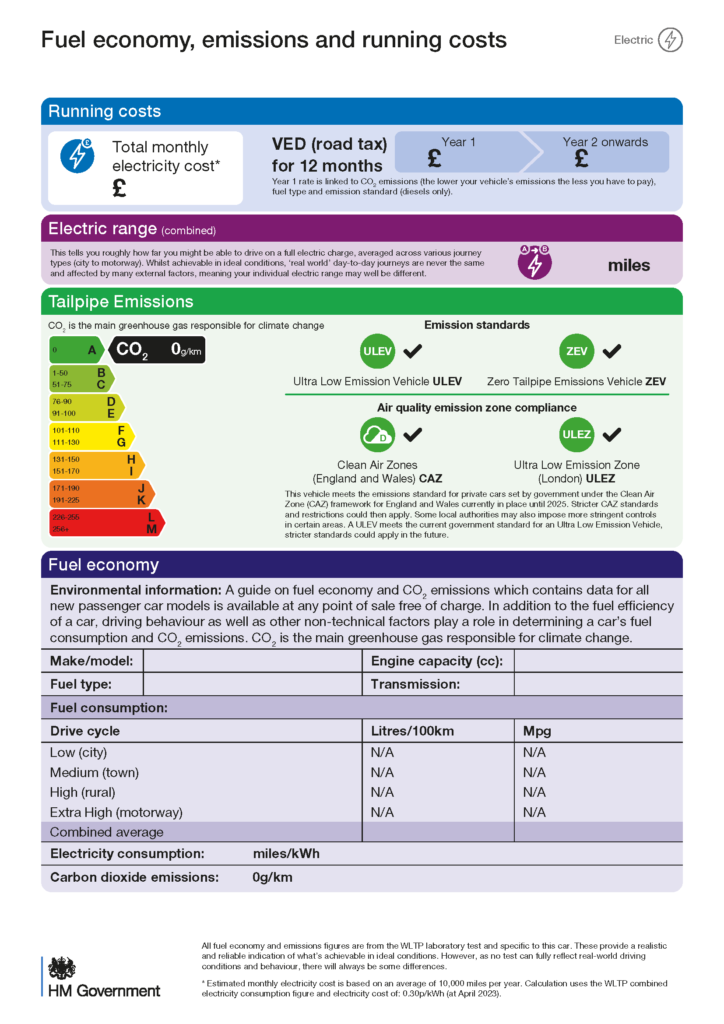 A sample of each label is available at https://carfueldata.vehicle-certification-agency.gov.uk/downloads/default.aspx  Other labels may be used but they must conform to the requirements set out in the Directive, and adopted under national UK legislation.
Dealers are also required to display a poster in paper or as an electronic display, in a prominent position, showing the fuel consumption and CO2 emissions for all new passenger car models displayed, or offered for sale.  Furthermore, the Directive also requires manufacturers to include fuel consumption and CO2 emissions data in all promotional literature (such as brochures and printed advertisements), provided that the literature relates to a specific model of car.
Trading Standards, which is a local authority service, enforce point of sale information (labelling and posters).  Should you have concerns in this area of activity, you can find your local Trading Standards office at http://www.tradingstandards.uk/home.cfm or by contacting your own local authority direct.
The Vehicle Certification Agency is responsible for enforcing the provision of information in advertising and promotional literature.  If you have concerns in this area please e-mail them at adverts@vca.gov.uk
If you have more general concerns about your consumer rights in relation to car purchasing (either new or used), contact Consumer Direct at: https://www.gov.uk/consumer-protection-rights